Rhodes Veterinary Clinic
Caring for Animals, Great and Small.
Ask a Question
Have a question about your pet's health? Let our team know, we're here to help.
See What's New
Our Facebook page has all the latest events and news.
Opening Hours
Monday: 8am – 6pm
Tuesday: 8am – 6pm
Wednesday: 8am – 6pm
Thursday: 8am – 6pm
Friday: 8am – 6pm
Saturday: 9am – 12pm
Sunday: Closed
Closed on public holidays.
Our Address
74 Gellibrand St, Colac, VIC 3250
On corner of Bromfield & Gellibrand, behind The Union Hotel
Welcome to Rhodes Veterinary Clinic
Rhodes Veterinary Clinic is a mixed animal veterinary clinic in Colac that was founded by Dr Dusty Rhodes in 1952. We provide care for animals both large and small. We service far and wide, covering farming enterprises from Timboon to Geelong. Our Colac Clinic is open 8am-6pm weekdays and 9-12 Saturday and our Simpson Branch is open from 10am to 3pm Monday and Friday. We travel to Apollo Bay each Tuesday.
Our experienced veterinarians provide consultations by appointment but also offer a 24 hour emergency service.
We are proud members of the Australian Veterinary Association, Australian Association of Cattle Vets and Australian Veterinary Practice Management Association.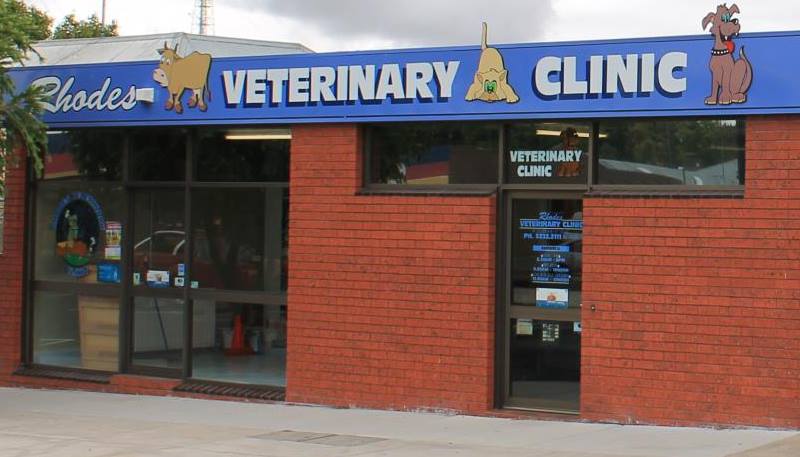 ★ ★ ★ ★ ★
"My family and I have used Rhodes veterinary clinic for a really long time and always will."
Rebecca
★ ★ ★ ★ ★
"Love your service & beautiful care for my doggies, you guys are all awesome"
Beata
★ ★ ★ ★ ★
"Rhodes is great, I love my dog and will not accept less than the best for him"
Brian
★ ★ ★ ★ ★
"Great service, lovely staff. Very happy with our dogs care and surgery xx thanks"
Melissa
Pet or Farm Animal Emergency?
We provide a 24 hour / 7 days on call emergency service for both large and small animals. Get immediate vet support any time.
Call us on (03) 5232 2111
Rhodes Veterinary Clinic
74 Gellibrand St, Colac, VIC 3250
On corner of Bromfield & Gellibrand, behind The Union Hotel
Opening Hours
Monday-Friday: 8am to 6pm
Saturday: 9am to 12pm
Closed on public holidays